The Florida Occupational Therapy Association (FOTA) is proud to continue its service to members and consumers of OT during the 2021 Florida Legislative Session.  Thus far we have spoken to at least eight different legislators directly involved in the examination and vetting of our proposed updates to the Occupational Therapy Scope of Practice (Scope). Your FOTA representatives have also met with other relevant stakeholders such as The Florida Board of OT and the Florida Department of Health to solicit feedback and support of these essential updates to our Scope.
Now it's your turn!
Your FOTA Government Affairs (GA) team is inviting all members to review the proposed draft (available here: https://rb.gy/mlein4 ) and contact their legislative representatives. We believe that awareness is key to achieving FOTA's mission of supporting members and consumers both now and in the future. Easy ways we can achieve this awareness might include: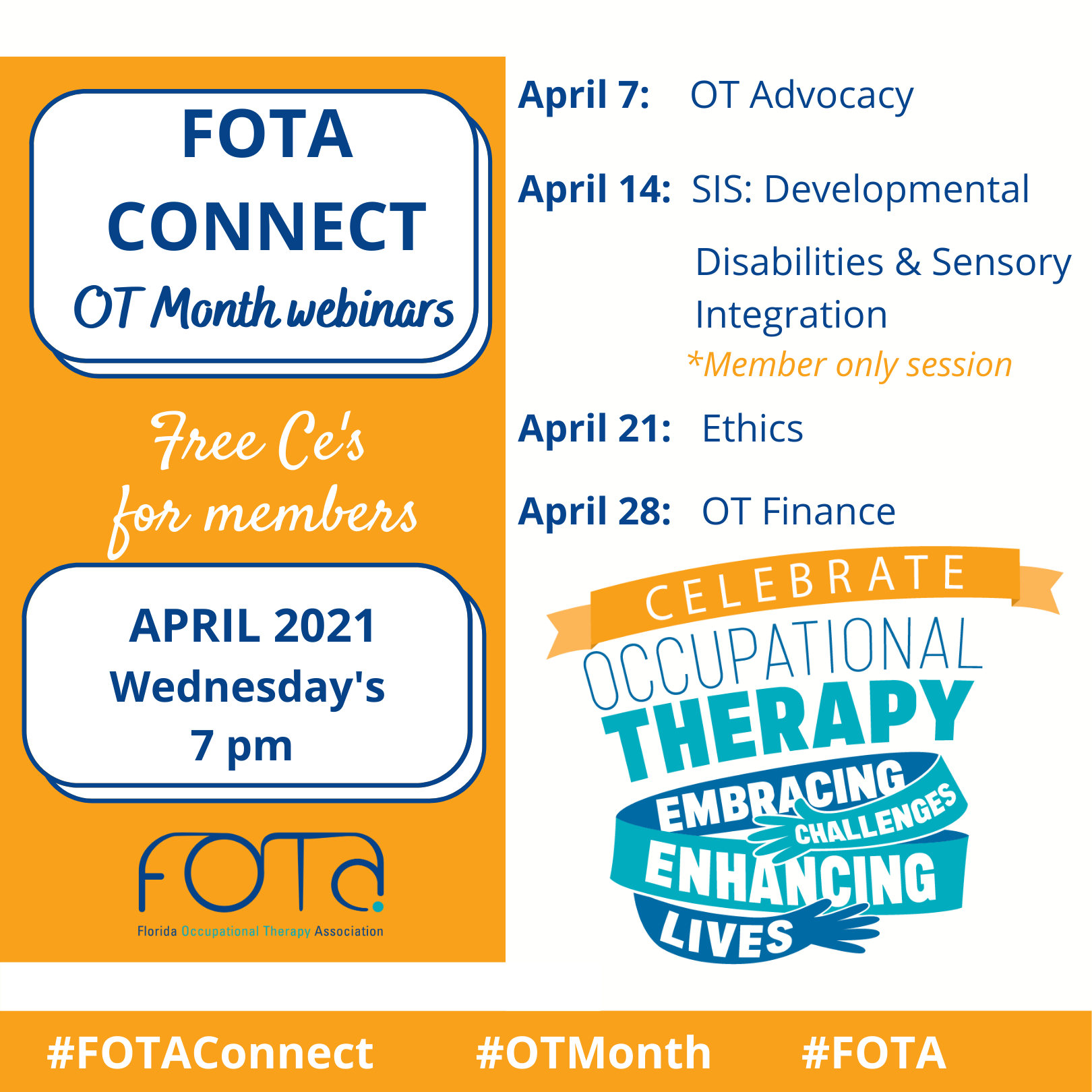 Writing a letter to your Representative.

Post a blog in support of updates on your site.
Create an assignment for your students to contact representatives.
Create an Instagram or Facebook post.
Hash Tag your support of House Bill HB543 and/or Senate Bill SB990.

#ImforOT, #SupportHB543, #SupportSB990

Like and share FOTA social media posts.
To make it easy, we are attaching guidance on crafting a letter to Senate Health Policy Committee members who are directly responsible for reviewing and deciding how our Bill should proceed. Filling in the information and emailing to a senator would take no time at all and is a strong indicator of support from our community.
On April 7th, 2021, at 7pm, we will be hosting an online discussion with the GA team to recap our efforts and to answer questions from membership.
FOTA thrives on the involvement of its members and we look forward to your continued support.
Sincerely,
Your Government Affairs Team  
Use this letter below as a guideline to contact these policy members.
 Advocacy Letter | Senate Health Policy Committee 
Share this post: